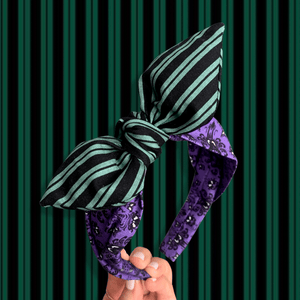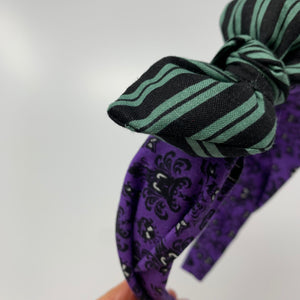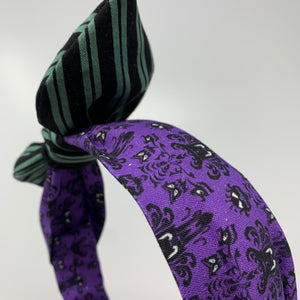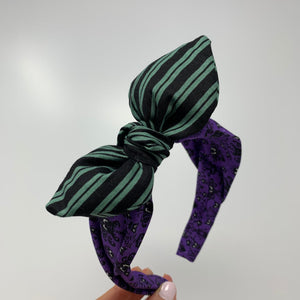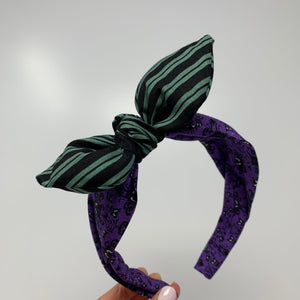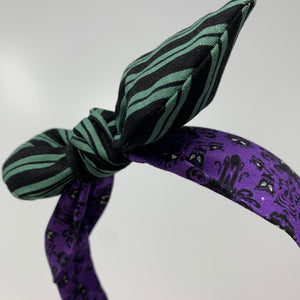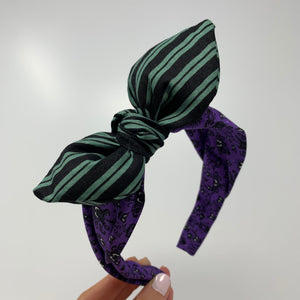 Pay a visit to the Haunted Mansion with this Ghost Host inspired BellaBow. You may even find yourself volunteering to be happy haunt #1,000.
This BellaBow features the spooky purple wallpaper from the Haunted Mansion on the band, and the striped pattern from the Mansion Staff's uniforms for the bow.
About the Bows & Bands
Want to know why everyone that's worn these hairbands loves them so much, and why you will too?
So Comfy You'll Forget You're Even Wearing Them
Hundreds of 5-star reviews all agree: they're so comfortable you'll forget you're even wearing them. And, you can safely wear them all day long no matter what you're doing. (Yes, you can ride the the coaster rides with them — Slinky, Mine Train, Cosmic Rewind, etc — without worrying about 'em flying off.)
Non-Constricting And Won't Cause Headaches
We all love the Ears. They're funky, stylish, and completely over-the-top, and I have quite a collection of them myself. But, if you've ever worn a pair, you'll know — they all tend to be tighter and constricting, and even cause headaches if you wear them all day.
You won't have any of those problems with our bows or bands. They fit comfortably without being tight, and don't constrict around the temples so you won't get headaches.
Bad hair day? No problem!
These hairbands make any bad hair day look 1,000% better; just throw your hair up in a messy bun, braid, or pony, and slide one of these hairbands on. And just like that — boom, totes adorbs.

Super Versatile To Fit Your Lifestyle
What if you don't live around the parks? Or, what if you're just out shopping? We wanted to make a hairband that allowed you to rep Disney in a way that compliments your style while fitting into your lifestyle — "theme-park inspired" without being "in-your-face-Disney". You can rock these hairbands to the parks or on a Target run, and you'll look fantastical either way.
One Size Fits All (As for kids, we'd say age 3 and up)
So far, these hairbands have been tested (and approved) for people ages 3 to 85, and all ages in-between. Safe to say, our one-size-hairband fits heads of all shapes and sizes.
The Perfect Accessory For Theme Parks Or At Home
Whether you're looking to accessorize for your next theme park trip or just want to add a little magic to your every day style, these headbands are the perfect touch.
For care and handling for your bows or bands, please see our Care & Handling page.
Shipping Information
All BellaBow, BellaBand, BellaXO, Face Mask, and/or Pet Bandana orders will ship out within 5 business days after the order has been placed, unless otherwise stated (though we like to get them out faster - underpromise and overdeliver :D). This does not include shipping time.
All apparel orders (shirts, hats, sweatshirts, etc) are created to order and generally ship out within 7-10 business days after the order has been placed, unless otherwise stated. This does not include shipping time.
For more details on shipping, click here.
Customer Reviews
MV
09/02/2020
Melody V.

United States
Best Bow Bands!
I have ordered various headbands searching for the perfect fit!! I finally found them at Bella Notte Co!! I have purchased a few and am in love with all of them!! The fit and styles are amazing!! Shipping and packaging are great as well!! No problems!! Looking forward to adding more bow bands & bella bands to my collection!
01/20/2020
kasey s.

United States
Welcome Foolish Mortals!
Absolutely LOVE this headband! The colors are fantastic and the quality is the best! Definitely will be ordering more headbands from Main street Travelers!
11/19/2019
Cassie C.

United States
Cute n' Spooky
I got TONS of compliments on this headband at the parks. The best part is that these headbands never give me a headache.
10/09/2019
Kayla K.

United States
In Love With It!
So comfortable and perfect for a messy bun kind of day!
09/24/2019
Megan P.

United States
Unbelievable
Love love love them. Great addition to all my Disney gear!
08/27/2019
Cheri P.

United States
08/27/2019
Kahne P.

United States
Ghost Host Hairband
I have accumulated quite a collection of hairbands from @mainstreettraveler and I love them all. Can't wait to wear a few of them at mnsshp soon!